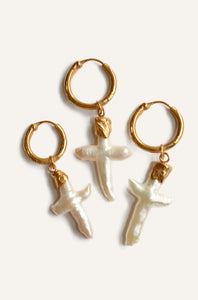 MOTHER OF PEARL CRUCIFIX HOOP (GOLD)
A single pearl crucifix hoop. Brass bathed in 24k recycled gold.

Small size 2.5-3.5cm pearl length (first pearl in picture)

Medium size 3.2-4cm pearl length (second and third pearls in picture)
Please note that each pearl and design is different as it's individually made. For more information do not hesitate getting in touch.

Depending on available stock gold plated pieces may take 1-3 weeks to ship. For a faster turnaround or special requests please inquire within.